Realtime HEVC/H.265 Encoder - ZenHEVC
Introduction
HEVC(High Efficiency Video Coding)/H.265 has been approved in February 2013 by MPEG and ITU, which is set to provide double the capacity of today's leading video coding standards - H.264/AVC or VP8; However,the improved coding efficiency of HEVC does come with a price of increased computational complexity, it is estimated the HEVC encoding will require up to 10 times more procesing power than its predecessor-H.264 encoding.
With a flexible software based architecture on general purpose computational platform(multicore CPUs and GPUs), our team has developed a leading realtime HEVC encoder - ZenHEVC, which currently support 1920x1080p@60fps and 3840x2160@30fps with high compression performance. Compared to HEVC reference code, HM10.0, the ZenHEVC is less than 0.3dB in terms of RD loss while maintaining realtime HD encoding speed.
Highlight of ZenHEVC: Higher,Faster,Stronger!
| | |
| --- | --- |
| Efficiency: | 50% bitrate of H.264/AVC at the similar video quality for HD or UHD resolution video |
| Velocity: | Full HD realtime(1080p@60fps) and 4K realtime(2160p@30fps)several hundreds times faster than HM10.0 with multithreads parallel coding |
| Flexibility: | Compatiable with HM 10.0 and laterPure soft based solution, easy to integrated and deployedIntel x86 general purpose multicore platform, high performance and low costPure C code, easy to extend other platforms like DSP or FPGAImplement most of key algorithms as HM10.0, can be set ON or OFF for each moduleProvide SDK for high level application, customization, system(hardware+software ), media cloud service |
DataSheet
| Input: | Live capture : 3G-SDI/HDMI/DVI/VGA, YUV 4:2:0, 8 BitLive streaming: TS over UDP, http streaming, etcLocal File: TS, MP4, AVI,etc |
| --- | --- |
| Preprocessing:(Option) | Iamge setting: Brightness/Constast/Hue adjust; cropping and scalingVideo filters: denoising, deinterlacing and deshaking, retargeting, change detection |
| Video Encoder | Profile: HEVC Main ProfileRate Control: VBR, CBR or fixed QPRate Range: 500Kbps to 20MbpsResolutions: HD(720p, 1080p) and 4K(3840x2160) |
| HEVC Encoder Parameters: | CU/PU/TU: CTU=64x64, PU= 64x64 to 4x4, TU Depth=2Parallel: WPP, Frame and GOPIntra Prediction: 35 directions ,DC and planarInter Prediction: support P/B FramesME Search Range: +/-64, 1/4 pixel precision with fast algorithms HEX or DIARDO, RDOQ and Sign Bit Hiding: ONDeblocking and SAO: ONSupport our original SSIM based RDO algorithmSupport our original ROI based QP adjust algorithm |
| Output: | Interface: RJ45, IPContainer Formats: TS or MP4Streaming Protocols: UDP, HLS, MPEG-DASH |
| Comatible Platform | Hardware: HP/DELL server/workstation with Intel Xeon E5-2600 series)OS: Windows7 64-bit profession versionMedia Players: VLC, FFMPEG, and Media player with DShow Filter plugin |
Product Series
| Product | Screenshot |
| --- | --- |
| Live H.265 Transcoder- Multiscreen application- Up to 6 different resolutions | |
| Live 4K H.264/H.265 Encoder | |
Performance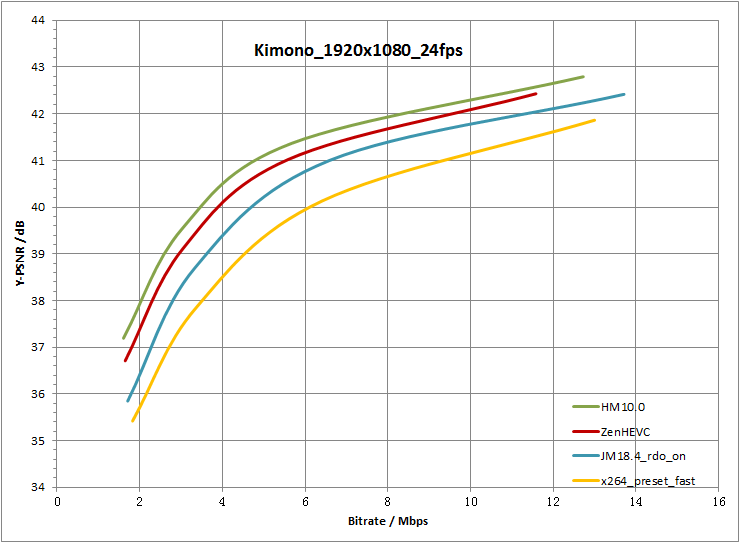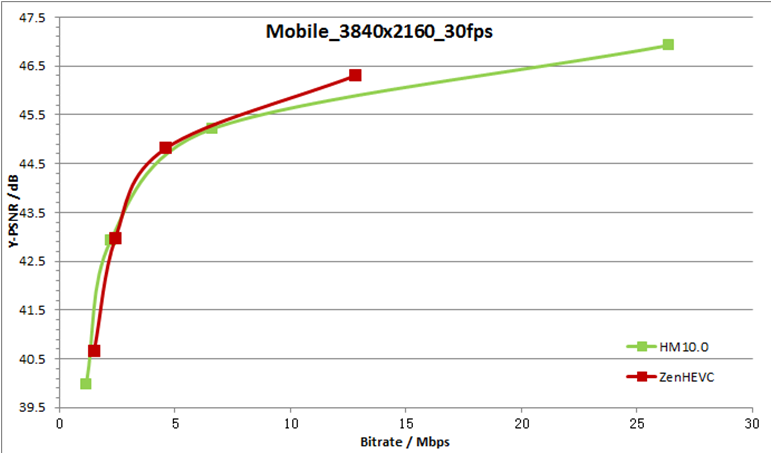 Detailed datasheet can be downloaded as PDF!